Industry Specialist - Proven Reputation for Problem Solving
Positioned across the Rust Belt with offices in Johnstown, PA and Indianapolis, IN, we have grown as a company in the heart of our country's aging and deteriorating infrastructure dealing with sewer and culvert systems, many of which are more than a century old. As storm and sanitary sewer system rehabilitation specialists, there are few problems our experienced team hasn't tackled and solved. We understand the fastest and most economical ways to utilize trenchless technology and structural shotcrete to solve the growing issues of the United States' infrastructure, and ensure we proactively solve our customers' problems before they escalate into something worse.
Hands-on Approach - We Inspect the Problem
At National Gunite, we inspect all accessible pipes, culverts, and structures the old-fashioned way by strapping on our boots and waders and getting a firsthand look. We will not recommend a solution or provide a quote without fully understanding the problem and our customers' expectations. As a result of this full understanding, we have near zero change order requests for our clients and deliver a first-class finished product that is both on time and on budget.
Engineering-Backed Analysis – Optimized Customer Results
With National Gunite's proprietary Customized Pipelining Design Program, we determine the unique reinforcement specifications for each project, and engineer our rehabilitation to be the most cost-effective, durable, and optimized fully structural design. Our customers can be confident knowing that their project is not over nor under engineered.
Extensive Experience - Committed to Quality Craftsmanship & Safety
National Gunite's experienced field leadership and management team has a combined 100+ years of experience in structural pipeline rehabilitation. Our extensive knowledge, collective skill sets, and resources give us the ability to solve the industry's most difficult or routine problems. National Gunite's Nozzleman are certified through the American Shotcrete Association(ASA) and take pride in the attention to detail necessary to produce a quality fully-structural finished product. At National Gunite, we are fully committed to jobsite safety and providing long-lasting work that ensures the future integrities of our storm and sanitary collection processes along with the communities we work in.
Trusted Relationships - Service Doesn't End when the Project is Completed
Our business is built on long-lasting repeat customer relationships and client referrals. With a strong belief in integrity and work ethic, our dedicated workforce is not happy until the customer is fully satisfied. We are a trusted resource for State and Local Municipalities, Department of Transportation throughout the East and Midwest, and many others, providing repeat service, as well as rapid response emergency support.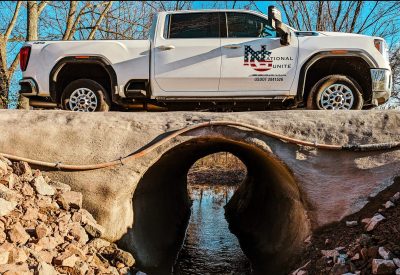 We Handle Projects of All Sizes - Large & Small
since National Gunite's founding, we have built trusted industry relationships & partners
Industries Served:
Industrial

Commercial

Energy

Public

Department of Transportation
Our Partners:
Commercial & Municipal Clients

Townships

Engineering Firms (i.e. civil, structural, environmental, etc.)

Property Owners

Construction & Road Crews

Land Surveyors

Water and Wastewater

Authorities

Stormwater Management Companies

General Contractors

Construction Contractors